Whether you're impassioned about women's health and empowerment or simply want to honor an important mother in your life, this is for you!
In honor of mothers everywhere, Susun is joyfully joining Roanna Rosewood, Dr. Christiane Northrup, Sheri Winston, Karen Brody, Mother Health International, Rebecca Wood, Elizabeth Harper, and other incredible visionaries in giving away hundreds of dollars worth of valuable gifts, just in time for Mother's Day.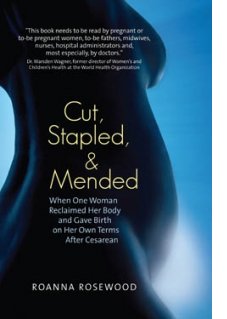 Roanna holds nothing back in this powerful memoir, plunging you deep into the intimacy of this ancient rite of passage. A book that will bring you to tears—from sadness and joy—often on the very same page.
Part memoir, part manifesto, this is a must read for anyone who has given birth, will give birth, or who loves someone who will give birth.  
Today's over-the-top, gift-packed event celebrates the launch of a very special book. Cut, Stapled, & Mended intimately unveils birth itself, not just as the means to a baby but a transformation from girl to mother. 
"I was unable to put it down, needing to read on late into the night, sobbing with the pain, crying with the joy as she finally has the primal natural birth, in all its pain, power, mess and glory. This is truly a 'journey of personal transformation' as the author finds something even more important, something I didn't know I was missing: myself. Once you pick it up, you won't be able to put it down until you'rewiping your eyes, sharing her joy, sharing a heart filled with her triumph."
- Sheri Winston, CNM, RN, BSN, LMT, award-wining author, and one of the United States' leading sex teachers